OMAHA AXE THROWING

PLEASE NOTE: We are closely monitoring the COVID-19 situation & have temporarily closed all bookings through April 15th.
If you would like to make a booking for after this date you may still do so, but please note that the booking may be cancelled & refunded based on how the pandemic situation progresses.
BOOK AXE THROWING TODAY
Axe throwing team-building events & gift cards
With holidays just around the corner consider booking your work holiday party at Axe Games Omaha! This year do something fun & unique for your work team-building event.
AXE THROWING GIFT VOUCHERS
An Axe Games gift voucher makes the perfect gift for friends, coworkers, or family! Online gift vouchers are available in any denomination for both our 1 hour & 2 hour private tournament axe throwing sessions.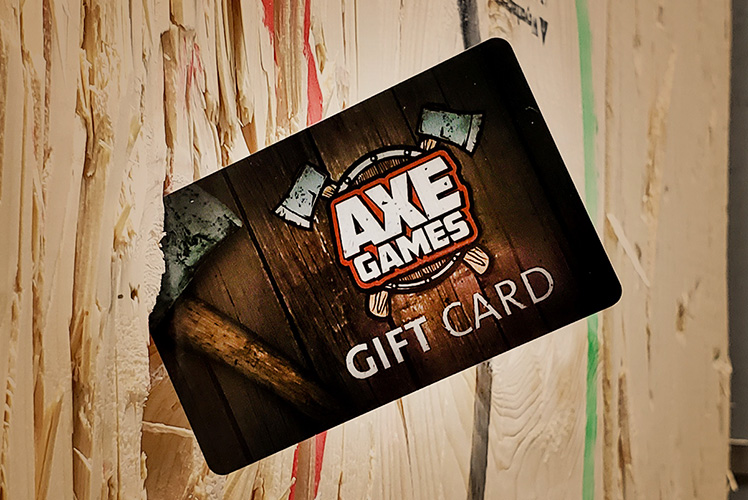 CORPORATE EVENTS
Axe Games Omaha can host up to 40 people at our axe throwing facility. We can accommodate food & drinks for your work team-building event, birthday or bachelor party, or any other event you are hosting.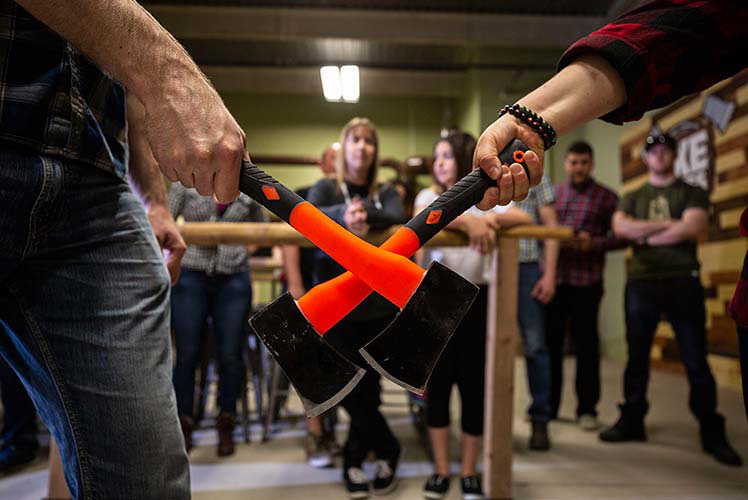 WHAT IS THE SPORT OF AXE THROWING?
The sport of axe throwing is very similar to darts in scoring, but instead of using darts, we use axes to throw at targets!
At Axe Games Omaha we aim to revive the heritage sport of axe throwing. We are dedicated to providing a fun, friendly and most importantly safe environment for people to get out, be active, socialize, learn a new skill and have a great time! At Axe Games Omaha we allow participants ages 10 and up to participate in the sport of axe throwing.
Axe Games Omaha Facility Information
Axe Games Omaha is a family friendly axe throwing venue located at 11106 Q street in Omaha, Nebraska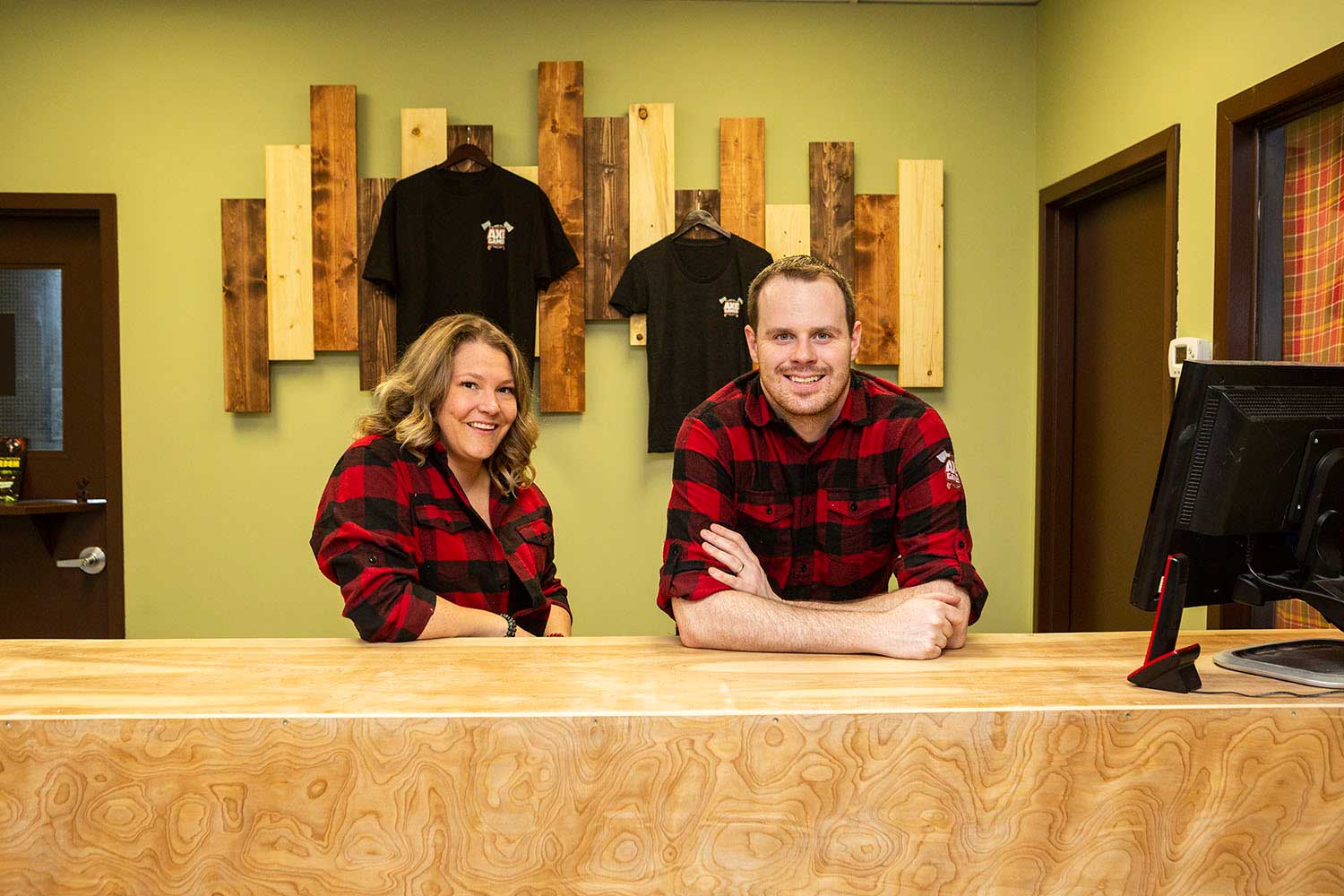 Axe Throwing Events up to 40 People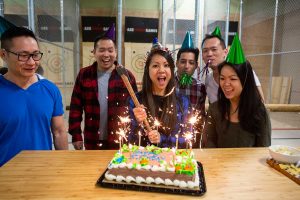 We have 6 axe throwing lanes in our facility, which can accommodate events of up to 40 people. Axe throwing is a great activity for any event: work functions, birthday parties, bachelor parties, or just a fun night out with friends!
Axe Games is Family Friendly (ages 10+)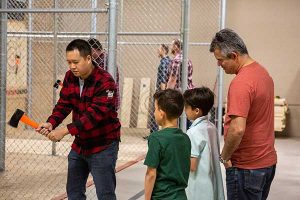 Axe Games Omaha allows players from ages 10 and up! Axe throwing can be a fun event for the whole family, our experienced Axe Games coaches will have throwers as young as 10 years of age hitting bulls-eyes in no time.
Axe Throwing from only $19.95/person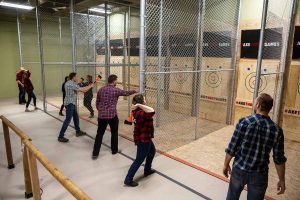 At Axe Games we offer 2 affordable axe throwing options: a shared 1 hour open axe throwing lane option ($19.95/person), as well as 2 hour private axe throwing tournament option ($29.95/person).
AXE GAMES OMAHA OPTIONS & PRICING
Book your event today with one of our 2 axe throwing options listed below:
1 HR AXE THROWING SESSION
Give axe throwing a try
1 hour axe session
Self-scoring game (we provide the scoresheet)
1 axe lane consists of 2 targets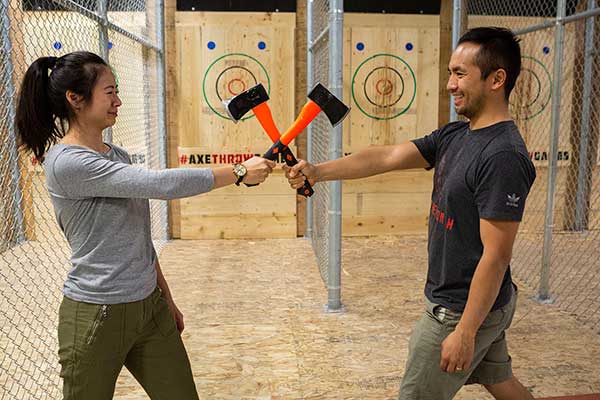 Don't worry if it's your first time axe throwing. An Axe Games coach will cover rules, how to score & axe throwing techniques before you start!

Axe lane rentals start and end on every hour on the hour.

You will be given a score-sheet and your Axe Games will be self-scored amongst the group.

If you show up late it will result in reduced play time or possibly rescheduling your booking to another time.

If you have booked with less than 8 players you may be sharing the lane with another group.
2 HOUR AXE TOURNAMENT
>> RECOMMENDED OPTION <<
Groups of 8+ players
Play an axe throwing tournament with your group!
An Axe Games coach will organize a tournament for you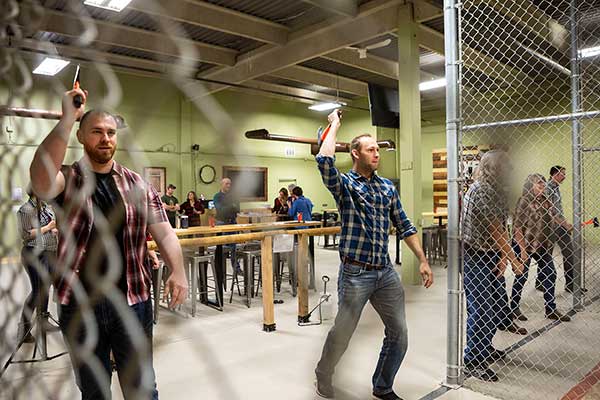 Organized axe throwing tournament for your group.

An Axe Games coach will be provided at the start of the booking and conduct axe throwing training, show you how to score, & setup a tournament bracket for your group.

Typical tournament structure (2 hours total): 30 minutes of training & practice, 45 minutes of seeding scoring round & 45 minutes of playoffs

If you show up late it will result in reduced play time or possibly rescheduling your booking to another time.

If you have more than 30 players please give us a call at 402-315-9577 so that we can better accommodate your booking!
We also have archery arena tag at our facility!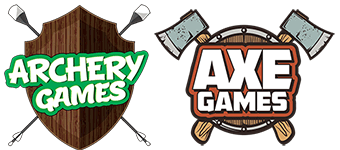 Looking to add on an archery game to your axe throwing event?
We offer discounts if you want to do both activities in the same-day, please contact us for more details.